Peter Steele died on April 14, 2010, at the age of just 48. The initial hospital report thought Steele died from heart failure, and an autopsy confirmed aortic aneurysm killed him. But later report by the Estate said Pete died from sepsis brought on by diverticulitis.
He was preparing to head back to Brooklyn after other members set up equipment in a Staten Island studio to record a new Type O Negative album. They were preparing to start making a new album in early May 2010. His death in mid-April would delay the plan forever.
Life before death
[
]
Peter Steele was born on January 4, 1962, in Red Hook neighborhood in Brooklyn, New York. His musical career started in 1979 with the bands Fallout then Carnivore. He formed Type O Negative in 1989 and released seven studio albums, including their landmark album Bloody Kisses and most popular favorite album October Rust. He had health issues during his career from drug and alcohol abuse. The song "The Dream Is Dead" of Life Is Killing Me made fans to really worry that it would be their final Type O album. Dead Again released in March 2007 would be their final Type O Negative album before Steele passed.
Death and burial
[
]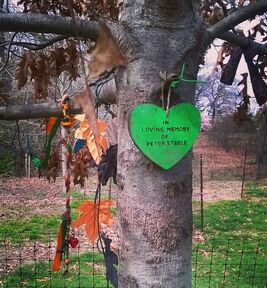 He stopped drinking alcohol and taking drugs in fall 2009 as he wanted to change his life around for the better. On April 12, 2010, he began suffering from the flu for the next couple of days at his home in Scranton, Pennsylvania. Then he suffered a aortic aneurysm, and died suddenly from it. Unbeknownst to other members, they tried calling him about the studio being set up but he didn't answer. Fellow member Johnny Kelly received a call from Peter's sister notifying them that Pete is dead.
Following funeral services, Peter Steele was buried at St. Charles/Resurrection Cemeteries in East Farmingdale, New York. On November 21, 2011, an oak tree was planted in Prospect Park in Brooklyn to commemorate Steele.
Updated cause of death
[
]
On November 7, 2018, Kathy O'Connor of the Estate of Peter T. Ratajczyk Steele published the correction for the actual cause of death. Although autopsy confirmed he died from an aortic aneurysm, O'Connor reported that Peter Steele died from diverticulitis that went untreated. The disease led to sepsis that ultimately killed him. The flu Steele was nursing was actually diverticulitis and needs immediate hospital admission as soon as sepsis set in, but Pete didn't go to the hospital as he didn't want to leave one of his cats who was having a tumor behind, otherwise, if he did, Steele would've survived past it.
Steele's family learned he suffered from septic diverticulitis just months after he died.
End of Type O Negative
[
]
Following the death of Steele, the remaining Type O members stated in July 2010 the band may not continue without him. In November 2010, they all agreed to dissolve the band rather than looking for somebody to replace Steele, with Johnny Kelly stating "Even if there is somebody who could take his place it wouldn't matter. We don't have any interest in continuing. It's impossible – it hasn't even come up in any kind of discussion. When Peter died, Type O Negative died with him."
Josh Silver would retire from music career and became a paramedic in New York City. Kenny Hickey and Johnny Kelly stayed with Seventh Void until they split up in 2017 and formed the band Silvertomb.
Alternate reality
[
]
 Main article: Follow-up to Dead Again

If Peter Steele didn't die, Type O Negative would've released more albums up to this point. Fans wondered what those album would've been like. Pete was getting religious, as evidenced on Dead Again. So those follow-up albums would have taken religiosity to the next level as well as having lyrics about the enlightenment after Steele became clean and sober. Others say one of the albums would've feature the return of sounds reminiscent of October Rust.
External links
[
]