Peter Steele
Real name
Petrus Thomas Ratajczyk
Alternative names
Pete Steele, Lord Petrus Steele
Nickname
The Green Man
Born
January 4, 1962 in
Brooklyn, New York
Died
April 14, 2010 (aged 48) in
Scranton, Pennsylvania
Buried
St. Charles/Resurrection Cemeteries, East Farmingdale, New York
Nationality
American
Zodiac sign
Capricorn
Height
6'7.6" (202 cm)
Weight
277 lb (126 kg)
Active
1979–2010
Occupations
Musician, singer-songwriter, bassist
Instruments
Vocals, bass, guitar, keyboards
Bands
Fallout (1979–1982)
Carnivore (1982–1987)
Type O Negative (1989–2010)
Genres
Gothic metal, doom metal, crossover thrash, thrash metal, heavy metal
Labels
Roadrunner Records, SPV America
Peter Steele (January 4, 1962 – April 14, 2010) was the lead vocalist, bassist and songwriter for the now disbanded group Type O Negative. As the frontman for Type O Negative, Steele was known for his vampiric affect, towering stature (heighing at 6'6"), rich bass-baritone vocals and a dark, often self-deprecating sense of humor. His lyrics were often intensely personal, dealing with subjects including love, heartbreak, death and addiction. Steele credited Black Sabbath and The Beatles as his key musical influences.
Before forming Type O Negative, he was with the metal bands Fallout and Carnivore whom he formed.
Career with Type O Negative
Steele recruited with his childhood friends Josh Silver, Kenny Hickey and Sal Abruscato and formed Type O Negative (then called Repulsion) in 1989.
Their debut album, Slow, Deep and Hard, came out in 1991 and wrote lyrics about the heartbreak based from his breaking up of a relationship, fantasies of revenge, and the contemplation of suicide that Steele had attempted: "On October 15th, 1989, I slashed my wrists. All I can say is that I fell in love with the wrong person." A year after releasing the debut album, The Origin of the Feces, which some say is a studio album while others say it's a faux-live album, was released, which the original album cover featured a close-up shot of Steele's anus.
The next year, Type O's landmark album, Bloody Kisses, was released. The album focused primarily on romance, love, sex, and death. In 1996 Type O released October Rust, which features more multi-layered and melodic sound than its predecessor, though it retained similar lyrical themes.
Steele had been dealing with personal problems such as addictions and deaths of loved ones during the recording and mixing of 1999's stripped-down and heavier sounding World Coming Down. As a result, the album heavenly relies on mournful deaths of loved ones, such as "Everyone I Love Is Dead" and "Everything Dies", as well as about drug abuse and addiction, particularly on the song "White Slavery". Steele also recounts his experience with psychiatric treatment on the song "Who Will Save the Sane?". On "Pyretta Blaze" Steele tells of his sexual fantasy involving fire.
Their sixth album, Life Is Killing Me, was released in 2003. The album features two songs about his deceased parents—"Nettie" about his mother Nettie and "Todd's Ship Gods (Above All Things)" is about his father Todd. Another track, "How Could She?", lists all of his favorite female television characters.
Their final Type O Negative album, Dead Again, was released in 2007. The title track is about abusing his drugs so much that Steele had a sense of having killed part of himself after suffering a relapse.
Death
 Main article: Death of Peter Steele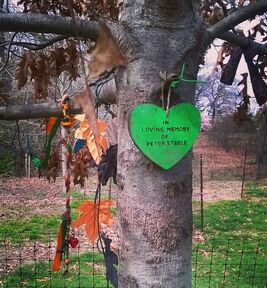 On April 14, 2010 Peter Steele died reportedly of a heart failure at the age of just 48. Further autopsy revealed that he died from aortic aneurysm, which is abnormal enlargement of aorta. Prior to his death, Steele was preparing to write and record a new Type O Negative album. In November 2010, the remaining members of Type O Negative decided to dissolve the band rather than looking for somebody to replace Steele, with Johnny Kelly stating "Even if there is somebody who could take his place it wouldn't matter. We don't have any interest in continuing. It's impossible – it hasn't even come up in any kind of discussion. When Peter died, Type O Negative died with him."
On November 21, 2011 an oak tree as seen on the image was planted in Prospect Park in Brooklyn, NY to commemorate Steele.
Community content is available under
CC-BY-SA
unless otherwise noted.